Sony Cam Remote Control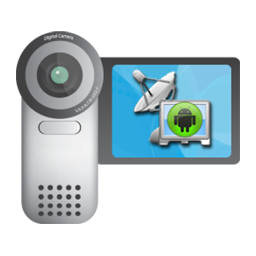 You can use this app as remote control of your sony camera. You could store your photos directly to the internal storage of your smartphone. You could instantly share your picture with whatsapp, hangout, facebook or all the other apps on your phone, which provide share functionality. Now you could insert the GPS Data in your pics as they are stored on the phone. A live preview function is also part of this app. You could shoot pictures with a 10sec delay, so you'll have time to make the composition and then the shot will be taken.
After you start the app, it will try to connect automatically.
You'll see the device name, which is currently connected. You have several settings on the first tab named 'SETTINGS', which you could use:
1. Haptic Feedback - The app buttons will vibrate, after you've pressed them. This is a nice feedback feature of the phone, that your device got your order.
2. Live Preview - You could turn on the live preview and see the current view of the camera- you are seeing, what your camera is seeing.
3. Picture Review - You could see the picture, after you've shot it. Now you could share the picture instantly with your friends and family. (if you want to share the picture, a temporary file will be stored on your storage card)
4. Store Pictures - You will be able to store your pictures, after you've taken them. All files will be stored on your internal storage (sd card) in a directory named: SonyCamRemoteControl
5. GPS Tag - This feature will insert GPS Data in your pictures, so you'll know where you've shot this image.(only on the stored pictures on your smartphone, not in the camera store)
Now you could go to the second tab named 'PHOTOS' Here you could shoot pictures, dependent on the previous settings.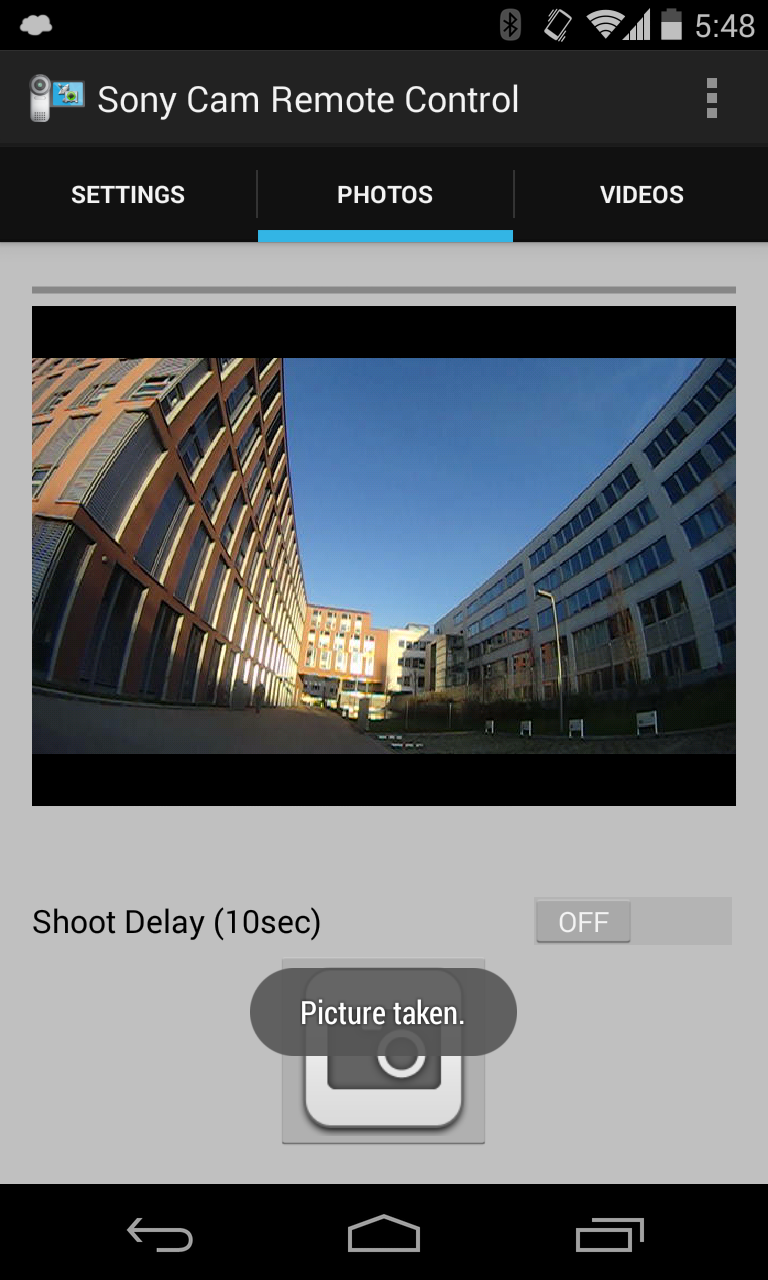 The app shows you a review of the tooken image.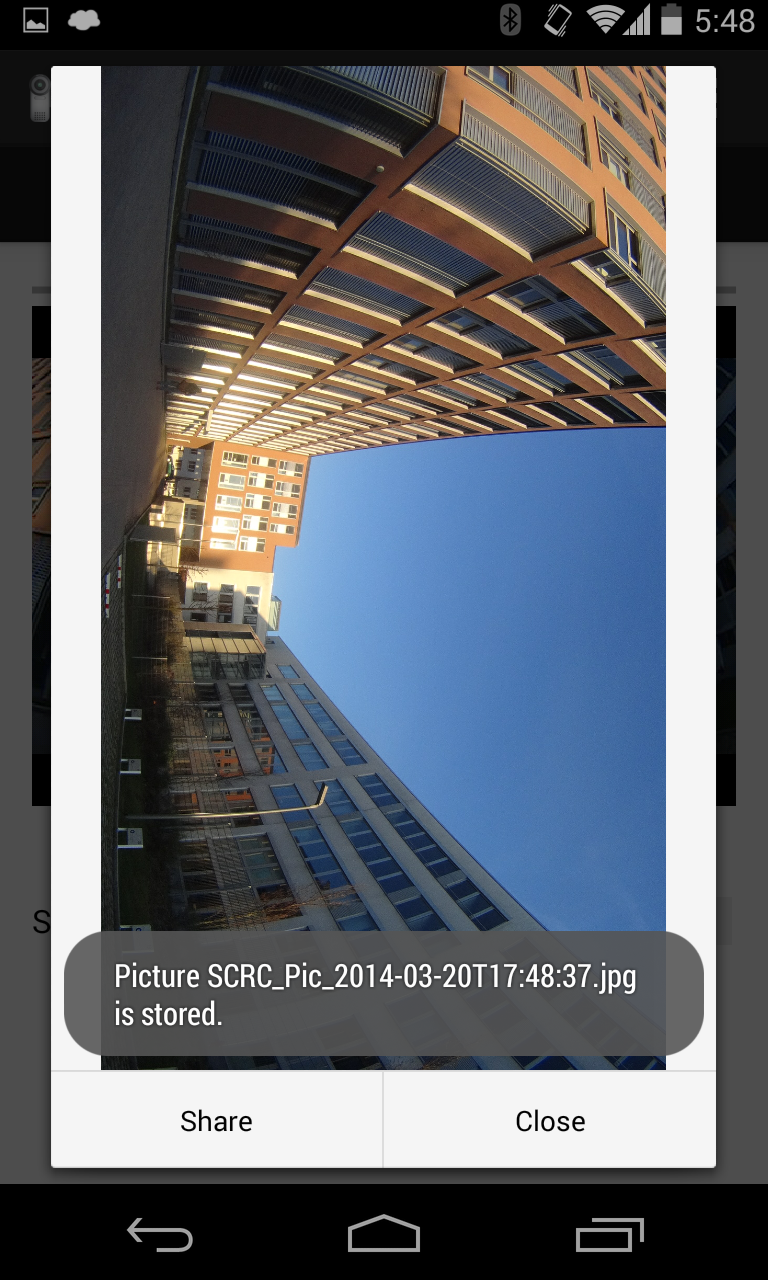 You could share your images by whatsapp, google plus or any other tool, which could share images.
The third Tab is 'VIDEOS'
Here you are able to start a video recording and stop the recording. You have a live view as well.
This app was developed and tested on a Sony Action Cam HDR AS30 with a Nexus 4 and Nexus 7 Devices
Currently, following models are supported:
Sony HDR-AS15 (latest firmware update needed)
Sony HDR-AS30
Sony HDR-AS100
Sony HDR-MV1
Sony A7R
Sony A7
Sony NEX-6
Sony NEX-5R
Sony NEX-5T
Sony A5000
Sony A6000
Sony DSC-HX60
Sony DSC-HX400
Sony DSC-QX100
Sony DSC-QX10
That's all! :-)
Explaining the use of permissions:
This app needs following Permission rights:
INTERNET Permission rights, in order to connect to the Sony camera by it's WiFi network..
WRITE_EXTERNAL_STORAGE Permission rights, in order to be able to store the photos on the storage card.
ACCESS_COARSE_LOCATION Permission rights, in order to use the current location of your smartphone to store the location data in the stored pictures
ACCESS_FINE_LOCATION Permission rights, in order to use the current location of your smartphone to store the location data in the pics
VIBRATE Permission rights, support for the haptic feedback.
Keywords Smart shutter, remote shutter, remote control, sony cam, Sony Camera, Photos GPS TAG, GPS DATA, Live View, Camera Remote API by Sony, Remote Viewfinder
This app is not affiliated with Sony